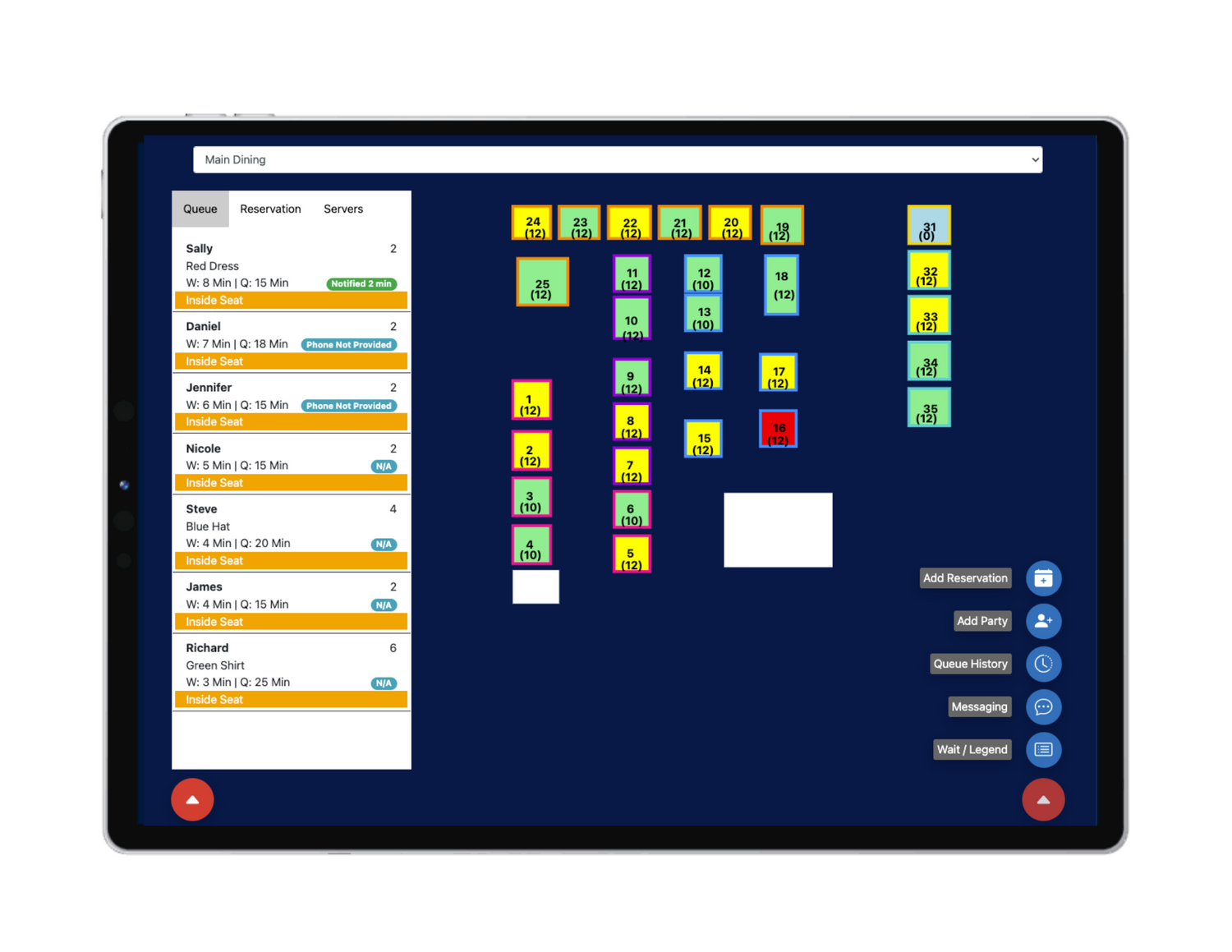 SeatMe Application
SeatMe enables Restaurants to manage their tables, reservations and customer queues in real-time with automated updating of table status and fully bi-directional SMS messaging.
SeatMe Application Login
Waitlist Management & Notifications

Fast, simple notifications and bi-directional communication to manage walk-in customers.

Real-Time Table Management

View real-time table status and manage customer flow with a simple touch.

Bi-Directional Customer Messaging

True bi-directional messaging with customers with configurable actions and intelligent keywords

Fully Integrated with NCR Aloha

Receive real-time data feeds from NCR Aloha and easy importing of Tables, Servers and Floorplans

Server Rotation Management

Easily assign servers to tables and view real-time data on table occupancy and server rotation

Web-Based Application

SeatMe is completely web-based and accessed through any internet connected device with a web browser such a laptop or tablet.
Frequently Asked Questions
How do we access and use SeatMe?

SeatMe is a 100% web-based application that can be used on any internet connected device with a supported web browser. We recommend customers use a touch-enabled device such as a Windows computer/tablet, Android tablet or iPad with at least a 10" screen for the best user experience.
How does staff get notified of customer requests?

All incoming customer requests are available under the messaging menu.  An on-screen notification informs users of incoming messages.  
Can I store and manage customer reservations?

Yes, SeatMe allows you to keep a record of all reservations that is searchable by customer phone number.  Reservations can be modified at any time and custom notifications can be sent to customers when making a reservation.  The SeatMe system automatically displays to users when a reservation exists for a given table.
Can you integrate into our existing POS system?

SeatMe was designed to support any POS system. We currently have full integration with Aloha and are working on additional POS integrations. If you have a specific need, please contact us.
Does SeatMe help manage walk-in customers?

SeatMe is a powerful waitlist queue management tool.  It allows you to quickly capture customer information and provides for bi-directional SMS communication with customers.   Staff can easily notify customers of table availability, communicate with customers and view estimated wait times by party size and location.
How difficult is SeatMe to setup and take live?

SeatMe setup is as easy as importing your floorplans and data from your existing POS, setting up users, message templates and custom keywords within the sytem. Our staff will work with you to create a customized configuration experience with the SeatMe system.  Client administrators can make changes at any time to the system confiuration or messaging options.  
Can I use SeatMe on my phone?

Yes, you can use an Android or iOS smartphone however we do not recommend using the smartphone for all of SeatMe functions. Simpler tasks like entering a reservation or adding a party to the queue can be done from anywhere on your phone.
Monthly Subscription Options
Vendor:

Regular price

$199.95 USD

Regular price

Sale price

$199.95 USD

Unit price

per

Vendor:

Regular price

$229.95 USD

Regular price

Sale price

$229.95 USD

Unit price

per

Vendor:

Regular price

$259.95 USD

Regular price

Sale price

$259.95 USD

Unit price

per